Posts for tag: periodontal disease
By Laredo Covenant Dental, P.A.
November 24, 2019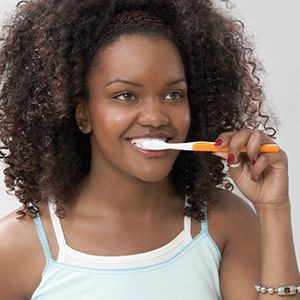 After several treatment sessions your periodontal (gum) disease is under control. But, while we may have won this battle, the war rages on. To keep an infection from re-occurring we'll have to remain on guard.
Gum disease begins and thrives on a thin film of bacteria and food particles on tooth surfaces called plaque. The infection usually begins as gingivitis, which causes the gums to become red and swollen (inflamed). Untreated it can develop into periodontitis, a more advanced form that progresses deeper into the gum tissues resulting in bone loss.
To treat the disease, we must remove all the plaque and calculus (hardened plaque deposits) we can find no matter how deeply they've penetrated below the gum line. Since the deeper it extends the more likely surgical techniques may be necessary to consider, it's better to catch the disease in its earliest stages when plaque can be removed with hand instruments or ultrasonic equipment.
The appropriate treatment technique can effectively stop and even reverse gum disease's effects — but it won't change your susceptibility. Constant vigilance is the best way to significantly reduce your risk of another episode. In this case, our prevention goal is the same as in treatment: remove plaque.
It begins with you learning and applying effective brushing and flossing techniques, and being consistent with these habits every day. As your dentist, we play a role too: we may need to see you as often as every few weeks or quarter to perform meticulous cleaning above and below the gum line. We may also perform procedures on your gums to make it easier to maintain them and your teeth, including correcting root surface irregularities that can accumulate plaque.
Our aim is to reduce the chances of another infection as much as possible. "Fighting the good fight" calls for attention, diligence and effort — but the reward is continuing good health for your teeth and gums.
If you would like more information on continuing dental care after gum disease, please contact us or schedule an appointment for a consultation. You can also learn more about this topic by reading the Dear Doctor magazine article "Periodontal Cleanings."
By Laredo Covenant Dental, P.A.
October 06, 2015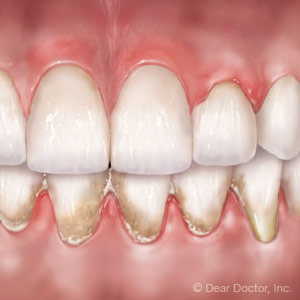 Periodontal (gum) disease, a bacterial infection caused by plaque, is one of the most prevalent and destructive dental conditions. Left untreated it can eventually lead to tooth and bone loss.
Although people are often unaware they have gum disease, there are a few warning signs to look for. Here are five gum disease signs that should prompt a dental visit.
Gum Swelling and Redness. Like all infections, gum disease triggers an immune system response that releases antibodies into the gums to attack the bacteria. The ensuing battle results in inflammation (swelling) and a darker redness to the gum tissues that don't lessen with time.
Gum Bleeding. It isn't normal for healthy gum tissue, which are quite resilient, to bleed. In a few cases, bleeding may indicate over-aggressive brushing, but more likely it means the tissues have weakened to such an extent by infection they bleed easily.
Tooth Sensitivity. If you notice a shot of pain when you eat or drink something hot or cold or when you bite down, this could mean infected gums have "drawn back" (receded) from the teeth. Gum recession exposes the tooth roots, which are more sensitive to temperature and pressure changes in the mouth.
An Abscess. As weakened gum tissues detach from the tooth, the normally thin gap between them and the tooth deepens to form a void known as a periodontal pocket. This often results in an abscess where pus collects in the pocket and causes it to appear more swollen and red than nearby tissues. An abscess needs immediate attention as bone loss is greatly accelerated compared to normal gum disease.
Tooth Looseness or Movement. As diseased gum tissue causes loss of gum and bone attachment, the affected teeth will start to feel loose or even move to a different position. This is a late and alarming sign of gum disease — without immediate intervention, you're in danger of losing the tooth.
If you encounter any of these signs, contact us for an examination as soon as possible. The sooner we can diagnose gum disease and begin treatment, the less damage it will cause — and the better your odds of regaining healthy teeth and gums.
If you would like more information on gum disease, please contact us to schedule an appointment for a consultation. You can also learn more about this topic by reading the Dear Doctor magazine article "Warning Signs of Periodontal (Gum) Disease."