Posts for: February, 2021
By Laredo Covenant Dental, P.A.
February 19, 2021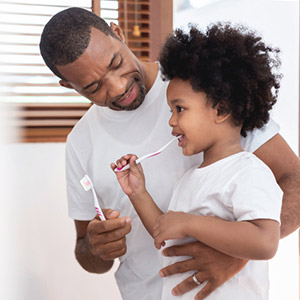 As they mature, your child's teeth, gums and jaws develop—if all goes well, they'll all be healthy and functioning normally when they enter adulthood. But tooth decay and other problems could derail that development and cause lingering oral health issues later in life.
Following these 4 guidelines now during your child's early years will help ensure their teeth and gums have a healthy future.
Start oral hygiene early. There's no need to wait for their first teeth to come in to begin your child's regular oral hygiene. Start with wiping their gums right after feeding with a clean wet cloth to minimize bacterial development. Then, start brushing as soon as teeth appear—to begin with, use a slight smear of toothpaste on the brush. As they mature, teach them to brush and later floss for themselves.
Check your water. Most utilities add tiny traces of fluoride to their drinking water supply. If your water supplier does, it can make a big difference (along with fluoride toothpaste) in helping your child avoid tooth decay. If your system doesn't, then speak to your dentist about whether your child could benefit from topical fluoride applied directly to their teeth.
Keep a check on sugar. Decay-causing bacteria thrive on the sugar added to processed foods, candies and many beverages. Even milder forms of sugar like lactose found in milk or formula can stimulate bacterial growth. So, in addition to daily brushing and flossing, do your best to minimize sugar in your child's diet. And don't put infants or toddlers to bed with a bottle filled with any liquid other than water.
See the dentist. Starting around their first birthday, regular dental visits can help keep your child's dental development on track. Dental visits are also an opportunity for preventive treatments against decay like sealants or topical fluoride. Your dentist may also detect the early signs of bite problems that if addressed now, could lessen their impact later in life.
Your child's dental health could get off course before you even realize it. But partnering with your dentist, you can help make sure your child's teeth and gums have a bright and healthy future.
If you would like more information on how best to care for your child's oral health, please contact us or schedule an appointment for a consultation. You can also learn more about this topic by reading the Dear Doctor magazine article "Top 10 Oral Health Tips for Children."
By Laredo Covenant Dental, P.A.
February 09, 2021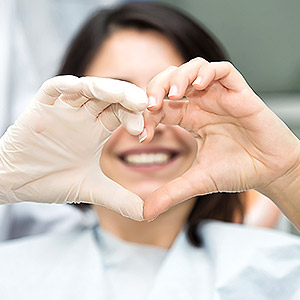 This month there are hearts everywhere we look, so it's fitting that February is designated as American Heart Month. We join with the American Heart Association in the goal of spreading awareness of cardiovascular disease, the top cause of death around the world. And while we think about our heart health, let's talk about the connection between cardiovascular health and oral health.
Cardiovascular disease includes heart disease, high blood pressure and cerebrovascular disease (involving the blood vessels of the brain)—in short, diseases of the circulatory system that can lead to heart attacks and strokes. Periodontal disease, in contrast, attacks the gums and other tissues that hold the teeth in place. The two conditions, however, have more in common than you might think.
Both periodontal (gum) disease and cardiovascular disease are chronic and progressive, and both are linked to inflammation. Periodontal disease and cardiovascular disease share certain inflammation markers detected in the blood that can damage blood vessels. Furthermore, specific types of oral bacteria associated with periodontal disease have been found in plaque that builds up inside of blood vessels, constricting blood flow.
People with gum disease are twice as likely to have cardiovascular disease, and studies show that having advanced gum disease worsens existing heart conditions, increases the chances of having a stroke, and raises the risk of having a first heart attack by 28%. Untreated gum disease also makes hypertension (known as "the silent killer") worse.
However, here's some encouraging news: Intensive treatment for gum disease was shown to result in significantly lower blood pressure. So, as you think about what you can do to take care of your heart health and overall health, don't forget your gums. Here are some tips:
Maintain a dedicated oral hygiene routine. A daily oral hygiene habit that includes brushing twice a day and flossing once a day is the best thing you can do to ward off gum disease.
Visit our office for regular dental checkups. Regular dental cleanings and checkups can keep you in the best oral health. Even with daily brushing and flossing, professional cleanings are needed to remove plaque and tartar from places a toothbrush can't reach, and regular checkups allow us to detect developing problems early.
Eat for good overall health. People who consume less sugar tend to have healthier teeth and gums as well as better overall health. An "anti-inflammatory diet" that is low in sugar and other refined carbohydrates and rich in whole grains, fiber and healthy fats can reduce inflammation throughout your body—and has been shown to greatly improve gum disease.
As a former Surgeon General once wrote, "You can't have general health without oral health." So celebrate this month of hearts by showing love to your heart and your gums.
If you have questions about how to maintain good oral health, call us or schedule a consultation. You can learn more in the Dear Doctor magazine article "Good Oral Health Leads to Better Health Overall."